With a real sword in hand?
(V1bT3)
I can hear you asking: 'so much talk about sword fighting gestures; what do you actually know about real sword fighting? Have you ever tried it? Do you even know how to hold a sword?'
In the course of the projects in section V1 'Mimetic gestures' - with the variety of actions implied in the narrative of Don Quichotte - I encountered some looming paradoxes in my quest to assimilate real physical actions into my violin playing. While throwing things up in the air (V1a) or sighing pathetically (V1c) are pretty common experiences for everybody, horse riding and sword fighting are a different matter. Have I ever sat on a horse? No, I have not. And at the time of the Don Quichotte project, I had not held a sword in my hand either. So there you go. I started to anticipate some possible defensive excuses and explanations for my claims of assimilating physical actions that I have never experienced.
However, by a lucky coincidence, at Concerto Copenhagen's summer opera production of Dido and Aeneas (2012), the musical director and harp virtuoso Andrew Lawrence King, being himself involved in extensive research on gesture, introduced me to some basics of sword fighting. Andrew has been actively involved with historical sword fighting for many years. Having three swords with him in Copenhagen, Andrew invited me to participate in one of his regular sessions held together with yet another practitioner, one of the singers from the opera cast. In this way I could both observe their practice routine as well as participate in some of the exercises.
A couple of days prior to the sword exercise session, I tried to summarize the assumed features of sword fighting that emerged in my 'Windmills' experimental study. I was curious to see whether these assumed body movements in violin playing will correspond to those of real sword action. I imagined that changing from a violin bow to a sword would justify or inform my violinist movement vocabulary.
One may argue that there is an imaginary coupling between actions of the bow and the sword. The fact that both the bow and the sword are held and controlled at one end of the stick, while managing the weight and centrifugal force of movements, might reveal some common strategies. Also, apart from the observation of sword action, the body movement patterns, and possibly also the footwork, could provide some interesting insights into violin playing.
​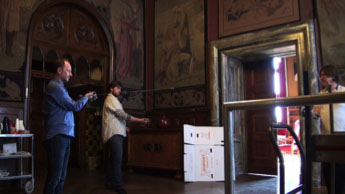 ​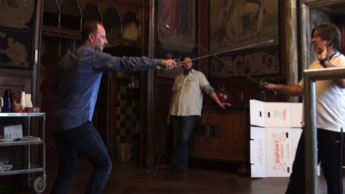 Ex. 1 Photos from the introductory sword exercise session with Andrew.
The sword exercise session was very interesting and inspiring. During the session I had a feeling I was absorbing the technique very efficiently and with ease. I was getting a lot of ideas for the upcoming analytical work with the video material, as the camera was capturing every step of my sword technique progress.
But during the video analysis I realized how different my actual experience was in the session from what I observed on video. What felt like a fierce sword attack, turned out on video to be a slow, unfocused, and unmotivated waving of a stick. As for the anticipated effect on my body movements, my random sways of the sword were not at all manifested in the rest of the body, which itself seemed rather passive and disconnected.
I realized I need to assimilate these experiential insights of 'seconda' 'terza' and 'quarta' sword positions directly through my embodied skills of violin playing rather than by drawing any conclusions on the basis on my clumsy sword action.
​
Vid. 1 The sword session.