The kinetic metamorphosis of rhythmical structure
(V2bT2)
A typical phrase of the Bourrée will consist of a series of anapest (Merriam-Webster, 2017) rhythms (short-short-long). Two eighth notes preceding a quarter note will naturally behave as an upbeat to the quarter note (ta-da-dáá; ta-da-dáá).
​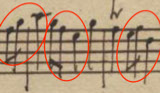 Ex. 1 The Bourrée structure often consists of series of anapest rhythms.
The arsic first bar should have two bouncy accents (possibly realised by a jumpy pas de sissonne) while the thetic second bar has only one downbeat accent, with the rest of the bar functioning as a repose (possibly mirrored by the pas de bourrée). This will influence the shape of the individual anapest rhythms. In the first two anapest figures, the accented bounce is on the quarter note, while the third figure in the second bar has a landing character, and the closing of the phrase must have no accent on the quarter note.
​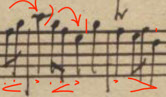 Ex. 2 The inner accents in the anapest rhythms alternate in accordance with their position in the Bourrée structure. The quarter note is accented in the arsic anapests, but in the final thetic anapest the quarter note is unaccented, mirroring the repose in the dance step-unit.
Yet again, it is the knowledge of the dance structure and its assimilation into body movement that informs my reading of the score. According to the step-unit, the anapest rhythmical motives are differentiated according to their position in the step-unit (or the adequate bow action). In the following video I devised an exercise for embodying the difference between bouncing and landing anapest figures.
​
Vid.1 The anapest figures in the Bourrée structure.